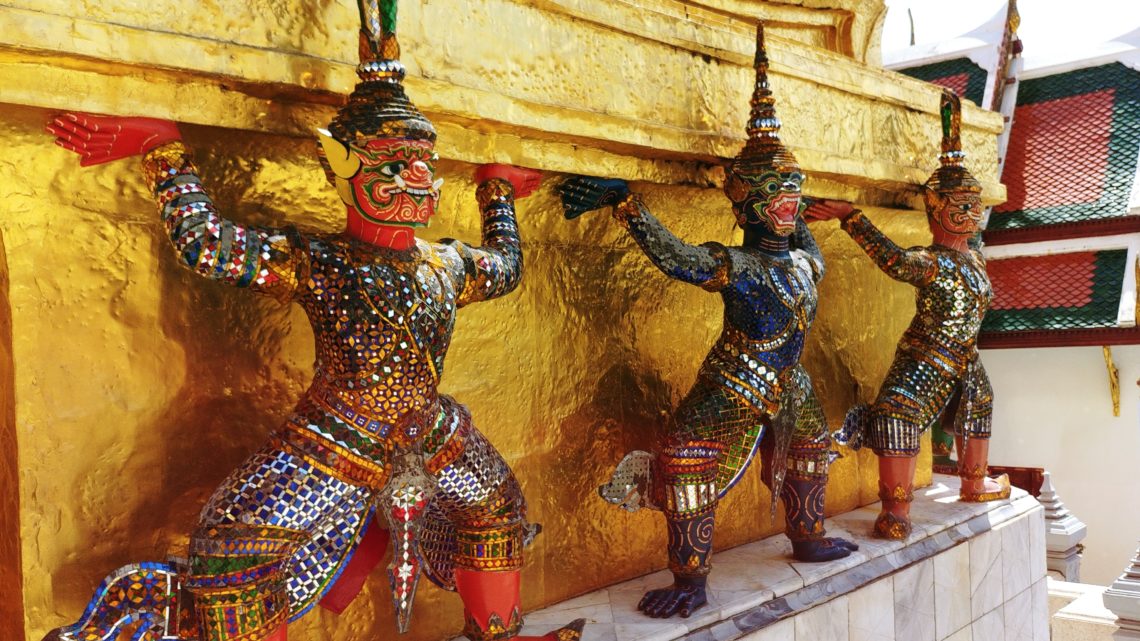 Wat Phra Kaew (and the Grand Palace)
Day 3 – Bangkok, Thailand
I was really happy when waking up this morning to see blue sky through the window. I have lamented the overcast skies these past days and the lackluster picture they engender. But you know what? Bring back the clouds. When the heat is already suffocating, adding sunshine isn't a good idea.
So yes, the air is dry instead of humid, but since the temperature doesn't go down at night, starting the day feeling like a heatstroke is waiting right around the corner isn't encouraging.
But still, I wanted to see the Temple of the Emerald Buddha, the Wat Phra Kaew, and the Grand Palace. First, I wasn't the first to have that bright idea. They say that it is the most visited spot of the capital, and I don't think that they are wrong. Still, I think it is comparatively a low season, and you can snap from time to time a picture with few or *gasp* no tourists on it!
First thing to know, "emerald" here refers to the colour (green) and not the material of the statue, which is jasp. Trying to enjoy the part of the visit around the statue is difficult: that is where most people are trying, at the same time, to cram themselves.
Many other details of the temple are fascinating and well worth the time spent looking at them. No pictures inside the Chapel of the Emerald Buddha are allowed, so I comforted myself with pictures of the surroundings, hence a rather long picture gallery.
The visit includes the outside of the Grand Palace, but by that time I was really tired of the sun and wanted only to find a shaded patch to cool down. So, there's only one picture: